Press Statement of the City Government of Catbalogan on cityhood issue
December 22, 2008
This is to formally inform the public that on November 14, the Supreme Court (SC) released a decision declaring the cityhood of 16 LGUs including Catbalogan as unconstitutional. In view of this ill-timed and unfortunate news, we wish to reassure our fellow Catbaloganons that the City Government is doing everything in its power to properly address this problem and with God's grace, Catbalogan, shall and will remain as a component city.
Upon receiving this news, the first step we made was to meet with the other affected LGUs. Last November 17, Vice Mayor Van Torrevillas, Councilor Art Gabon and I met with other concerned Mayors and their legal counsels, to discuss the next proper course of action. We were joined by Congresswoman Carmen Cari and other Congressmen, at the Speaker's Lounge of the House of Representatives for this meeting.
During our stay in Manila, we had also consulted with other key persons including Solicitor General Agnes Devanadera on November 18, House Speaker Prospero Nograles on November 19 and Senate President Juan Ponce Enrile on November 22.
It was during the meeting with Solicitor General Devanadera that we were advised to prepare a briefer specifying our justifications on why our cityhood statuses should be retained. I promptly instructed my department and office heads to prepare and come up with a detailed outline/summary on the possible impact and effect, should the rewind from a city into a municipality become final and executory.
We provided statistics, facts and updated data on the number of new offices/departments, number of new plantillas, promotions, positions that were filled up, contracts entered into by the City Government, status of the various implemented and on-going programs and projects, adopted city ordinances, collection of Real Property Tax (RPT), potential investments and other similar data.
We also explained that reverting back to a municipality will lead to the deterioration of the social and health services. Performance of the existing offices will be adversely affected while the newly created agencies or offices will be dissolved, further affecting the quality and delivery of basic services. The resulting lay-off of workers will also deprive 100 families or 800 individuals of a decent source of living and quality way of life.
This briefer was submitted to the Solicitor General, to Congress, to our Legal Counsel and to the Office of Atty. Estelito Mendoza last November 26 in support of our Motion for Reconsideration. Alongside this, the Congress, both houses, were supposed to file a Motion for Intervention and Reconsideration to support our claims. The legal details, updates and defenses of our motion are all being handled by Atty. Estelito Mendoza as our over-all legal representative.
Our present situation comes as a result of the legal maneuvers made by the League of Cities of the Philippines (LCP) starting with the petitions for prohibition filed in the dates March 27, 2007, May 4, 2007 and June 14, 2007. With the City of Iloilo and the City of Calbayog at the forefront of this legal campaign, the LCP and other member cities as petitioners-in-intervention have sought that the court either block the respondent municipalities from conducting plebiscites or compel the COMELEC not to proclaim the plebiscite results. They also appealed that the cityhood laws be struck down as unconstitutional.
The prayer for the issuance for a Temporary Restraining Order (TRO) was not granted by the court which prompted the COMELEC to proceed with the plebiscite last June 16, 2007. Catbalogan's conversion into a component city was ratified at that same day.
In view of this, my administration stands firm in its conviction that our cityhood was obtained lawfully. We went through the required processes and have overcome all the difficulties and obstacles that were thrown in its path. Most importantly, it emanated from the people of Catbalogan with a resounding majority of 25,426 votes cast in its favor. These justifications increased our confidence in the constitutionality of our cityhood and our strength to defend it before the Supreme Court.
As things stand now, Catbalogan remains and still is a city. No more less than the Chief Justice of the Supreme Court, Hon. Reynato S. Puno, clearly and categorically declared that the decision of the Supreme Court is not yet final and executory. Just recently, on December 10, we filed our Motion for Reconsideration (MR) before the SC.
Pending the resolution of the MR, the City of Catbalogan shall continue to receive the same IRA allocation and other privileges with other cities. All created offices/departments of the city shall remain to exist and function as such.
We earnestly ask the public to display the same faith and courage in this most trying time in our City's history. Never lose hope for the law is on our side. GOD be with us!
We are also thankful for the outpouring of support and concern that we received when the news first broke out. We especially want to thank the individuals who helped in preparing the briefer which was an important part of the documents submitted for the Motion for Reconsideration. They are: DR. DEBORAH MARCO, ATTY. AILEEN FORTEZA, ATTY. CARLOS DAIZ, ATTY. GERARDO TEVES, ATTY. ERNESTO ARCALES, EDGARDO T. GUYA, DOLORES Q. TENEDERO, LAIMINH MABULAY, ROXANNE D. LAURETA, AARON PLANAS, ADOR HURTADO, ARBEE MON, LYNOR ABOTOG, JASMINE MACASPAG, CHEREL TAMAYO, CARLOTA RODRIGUEZ, ERLINDA ABUGUIN, ALFIE LEE, RECHELLE OCENAR, MERCEDES PACAYRA and all concerned DEPARTMENT HEADS.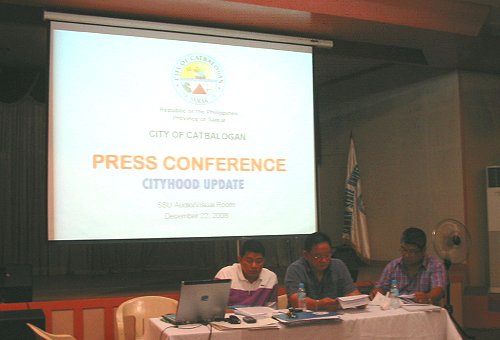 Mayor Tekwa Uy, Vice-mayor Van Torrevillas, Councilor Art Gabon and Atty. Gerry Teves alternately answer queries from the media during a Press Conference cum Forum on the Catbalogan cityhood issue at the SSU audio-visual room on December 22.