Tacloban City Convention Center (TCCC) Soft Opening held
By CATHERINE JANZ R. SICOY, (KIMRO)
June 26, 2006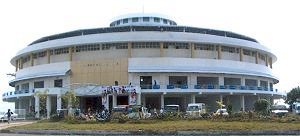 The P200 Million Tacloban City Coliseum owned by the city LGU with a seating capacity of 4,500 will served as a regional venue for huge gatherings and major shows.
TACLOBAN CTIY, Leyte – Tacloban City Convention Center (TCCC) or more popularly known as the Tacloban City Coliseum finally opens itself to the people of Tacloban City and to commerce, Friday (June 23).
The event started with the celebration of a Holy Mass with Father Ervy Davy Lajara (City Chaplain), joined by Fr. Randy Raagas, Fr. Virgil Murillo, and Fr. Rommel Taboso, of the Sto. Niño Parish. It was followed by the tossing of coins and blessing of the whole place wherein everyone lit a candle as traditionally done. The cutting of the ribbon was led by Mayor Alfredo "Bejo" Romualdez assisted by Atty. Victor Tantoco (Corporate Secretary/Vice-Pres – Postal Bank) and various department heads of the City Government. The memorable occasion was also graced by City Officials, Department Heads, businessmen, and employees and staff of the City Government.
Everyone cannot help but be awed and amazed as they finally behold the enormity of this architectural landmark, this future indoor venue for important events and conventions in the region. Sheer pride and happiness was evident in the faces of the whole crowd. Indeed, it can be said that the whole undertaking today was a great success!
A concert, "I Will Survive" featuring legendary and contemporary artists took center stage later in the evening, its firsts in the years to come. The City Mayor was very happy and grateful to all the Taclobanons for this noble accomplishment of his administration which funding came from the coffers of the city. "This is not only for Tacloban City but for the whole region as well", he further emphasized.