Ancient town in Samar gears up for its 415th Grand Fiesta
By RICKY J. BAUTISTA
August 12, 2006
BASEY, Samar – This ancient agricultural town located in Western Samar which own the distinction of having weaved the world's longest mat and world-class Sohoton Caves is now gearing up for a colorful euphoric town fiesta this coming September 2006.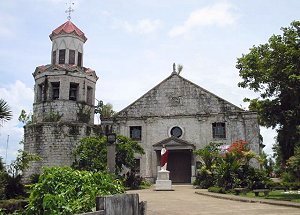 The 17th century old church of Basey is one of the tourist attraction in the locality.
This year's town fiesta has a theme: "Buhat, Pakigsaro, Harayo pa an lalakton."
This year's Executive Committee told this writer that a lot of ecstatic activities, daily and nightly, had been lined up starting as early as September 19 in connection to the 415th year of consecration of Basey to its patron Saint Michael the Archangel and its 104th Annual Town Fiesta, which will culminate on September 29, this year.
Mayor Vicente C. Labuac Jr., the over-all chairman of the grand fiesta said among the activities lined up will be the holding of a meaningful religious activities such as the Pagbungto Rites (Sept. 19), Parish Night (Sept. 20) and the holding of novena masses.
The regular festival events like the annual Kawayan-Banigan Festival Parade, Rayhak han Kabataan (Sept. 21), Grand Pasundayag (Sept. 25), the Search for Ms. Guibaysayi 2006 (Sept. 26), Balik-Bayan and EVTC nights (both falls on Sept. 27), ABC and LGU nights (Sept. 28), SK and PYAP nights (Sept. 29), Grand Alumni Homecoming (Sept. 30) will also be sustained.
The Kawayan-Banigan Festival Parade is a yearly dance parade of pageantry and colorful mats, winding through the town key streets, reliving the two main source of livelihood of Basaynons – bamboo and mat weaving - through their music, dance and drama.
This festival became famous when hundred of community folks paraded a one-meter wide mat and claimed now as the world's longest mat in Fiesta feat in year 2000. Since then, the town, which has weaving as its prime industry, comes to life when it celebrates outlandishly the feast of St. Michael, its patron saint.
The highlight of the feast is the Banigan-Kawayan Festival, where the women of Basey weave a variety of intricately designed mats from sedge grass locally known as tikog (Fimbristylis milliacea). This tradition was handed down from many generations, and up to now.
To make this year's fiesta merrier, Mayor Labuac informed that the Committee has also prepared some healthy competition among the youths such as Battle of the Bands, Ballroom Dancing, Pop Dance, Singing and Rhythm Band and Merry-Makers Competition, and "Tagisan ng Talino" in the Pasundayag nights.
"A big big prize await to the winners. This will be a great opportunity for us to enjoy, and I am inviting you all," the mayor said.
Meanwhile, Basey information officer Evangeline O. Ritaga, Chairman of the Cultural Committee said that the search for the Miss Guibaysayi 2006, the most awaited event during the 12-day celebration of this town, is a beauty and brains contest of ladies between 15 to 25 years old who can amply "promotes the quality of life as a Basaynon."
"We will be providing a nightly entertainment or cultural presentations for all Basaynons, our visitors and those people living in nearby municipalities thus livening up this year's celebration," Ms. Ritaga said. "That means that we will have more fun and festive atmosphere this year," she added.
In part of their messages of support, Parish Team Ministry Fr. Niceas Abejuela and Fr. Dionesio Calderon said, "… as our Diocese is preparing for its Synod, this Fiesta is a fitting avenue to realize the theme - "Buhat, Pakigsaro, Harayo pa an lalakton..." For we gather our strength in our solidarity in prayer and action, making the protection of St. Michael as our shield against temptations of discord and apathy. May we all work for the glory of God, the good of each Basaynon."
Basey Vice-Mayor Edgardo Rebamontan, "as we welcome this year's Feast Day of our beloved Patron, St. Michael, the Archangel the heavenly warrior and God's protector of his Church and his people, we take pleasure in inviting everyone to join this happy occasion, not only to share (but) to thank our Lord God, through the intercession of St. Michael for His continued providence and protection, despite our unworthiness."
In his part, Rep. Catalino Figueroa of Samar 2nd district, "… my deep love and concern for your municipality carries with it the great responsibility of ensuring that the community is well taken cared of and to guarantee the safety and security of your town… maupay nga fiesta ha iyo ngatanan!"
Meantime, in a meeting with the family of this year's Hermano Esperato Palomino Sr., who passed away last November 2005, the following were listed official members of the Basey Town Fiesta Executive Committee: Chairman, Mayor Vicente Labuac Jr.; Co-Chairman, Rev. Fr. Niceas Abejuela, Rev. Fr. Dionesio Calderon, Mrs. Agustina Palomino, Atty. Ruben Palomino, Mrs. Elizabeth P. Garcia, Mr. Jose Palomino; Executive Officers, Aurora Colinayo, Erlinda Aguihon, Rodolfo Gad; and members, Sol Latorre, Wigberto Belizar, Dr. Asisclo Labnao, Jaime Dacurawat and Nestor Tabungar.
These people, it was learned, solicited the usual cooperation and support of the business, academe, government and non-government associations in order to ensure a successful holding of this year's fiesta celebration.