The Express Publications, completing a Silver Jubilee of media service
TOWARDS A GOLDEN ANNIVERSARY 25 YEARS HENCE

By CHITO D. DELA TORRE
December 22, 2012
Today, December 22, the Leyte Samar Daily Express begins to navigate its next 365-day course as a "positive, fair, and free" regional daily newspaper as it commemorates the 25th year (a silver jubilee, indeed!) of the Leyte Samar Express publishing industry in simple anniversary activities at its main office, the first floor of the Knights of Columbus Building along Padre Zamora street, Tacloban City.
As it does, the couple who are behind this trademark of free journalism in the Waray Region, Dalmacio "Massey" Candido Grafil and Alma nee Montallana, both from the province of Eastern Samar, renew their commitment of continually improving on their service of catering to the information needs of the news reading public in Region VIII.
A solid proof to that renewal is their having aptly prepared themselves, their personnel, and their office for the rising challenges to the publishing industry. On the mechanical aspect, they acquired and caused the installation right at this office last October 28 two units of the latest brand of printing equipment that can hasten newspaper production: one platesetter and one plate processor. Just after about 3 minutes – counted from the time the editorial content navigates to the "network" until it gets its finished form on a plate – the latest issue for the day of the Leyte Samar Daily Express is ready for printing. In the next hour or so, the newspaper gets off the offset printing process, ready for distribution to its different circulation outlets around the region. Between 6 and 7 o'clock in the morning of each day, from Monday to Sunday of each week, newsstands in Tacloban start selling this newspaper. By the middle of last month, these two acquisitions, having been commissioned to their fullest, produced their first print form of this paper. The other preparations corresponded to these innovative changes.
This attribute further demonstrates the responsiveness of the editorial management. That is why it continues to attract advertisers and newsmakers. In another vein, it also helps prepare future journalists by enlisting interns from among mass communications and media-related courses. Its competent editorial force, themselves veteran journalists, headed by editor-in-chief Vicente "Ven" S. Labro, who hails from Catbalogan, Samar, provide the necessary guidance and mentoring (where needed) to all their staff members, including interns, and others who wish to work for the Leyte Samar Express publications.
Yes, publications, for aside from the daily, the Express family has also been publishing weeklies in the different parts of the region, with provincewide circulation, apart from a city edition.
The Express newspapering industry has kept on growing since its first newspaper publication, the Leyte Samar Weekly Express which first hit the streets exactly on December 22, 1988, less than two years after the Philippines regained its democracy from a dictatorial regime. The LSWE, acronym for that newspaper, became the mother of the weeklies subsequently published – the first inside-page provincial edition having been the "Leyte Samar Weekly Express Biliran Edition" under the editorship of community organizer-NGO worker Socorro "Intoy" Cotejar of Naval (capital of Biliran province) – until the birth in year 2001 of the Leyte Samar Daily Express (LSDE, or Daily Express, for short), thanks to the daring but encouraging idea of Emil Justimbaste who at once became its first editor-in-chief.
During the days of the LSWE, the Leyte Samar Express Newsmagazine was born, with this writer, while serving as associate editor and columnist of the weekly, taking the cudgel as editor-in-chief. The Newsmagazine continued until the daily became the regular flagship publication of the Express family.
True to its social obligation and duties, the Express family, notably the men and women behind the LSDE, adhere to the avowed ethics and principles of journalism and find active membership in such respectable media organizations as the national Philippine Press Institute, and some local groups, like the erstwhile and then defunct Leyte Private Media Inc., and the popular, now 12 years old, Express It At The Park (EIATP) which began with only four men – Massey himself, now LSDE columnist Alvin G. Arpon, Emil, and engineer Wilson Chan, general manager of Leyte Park Hotel. Other regional and provincial organizations, such as the Philippine National Police Press Corps, Samar Island Press Club, the Catbalogan Cable TV Media Nucleus (CCATMAN), Region Eight Tri-Media Association (RETA), and other independent media groups. Besides responding to requests for reportorial coverage (like those from regional government agencies and local government units, and even requesting militant sectors), or participating in building advocacy lines as the media sector, the Express, specifically the LSDE, also closely coordinates with the Philippine Information Agency. This involvement accentuates the "positive", or pro-active, character of LSDE.
Among the pioneers in the Express family, aside from Massey and Alma themselves, had been David Genotiva, Loly Isiderio, Inocencio P. Maderazo, Atty. Aurelio D. Menzon, and this writer.
LSDE in Directories
Leyte Samar Daily Express appears in websites or blogs which present it as among those worth simply posting or displaying or as part of a directory, or fit for the "marketplace" (meaning, marketable).
In the National Library of the Philippines, the Information Technology Division online public access catalogue posts the following for year 2012 under the link koha.nlp.gov.ph/cgi-bin/koha/opac-detail.pl?bib=570427 in the NLP website: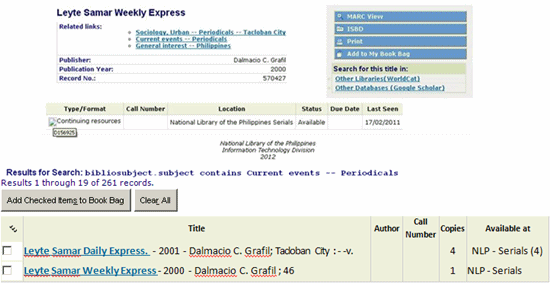 From Sell123.org, tagging LSDE as company/Philippines/889095.htm, a screenshot of the entry says: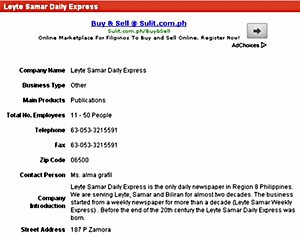 In the Philippine Information Agency Region VIII website, via web.vis.net.ph where the search link states "lineagencies/pia/index.php?option=com_content&task=view&id=22&Itemid=1", LSDE occupies the top space its "PA – VIII Daily News Reader":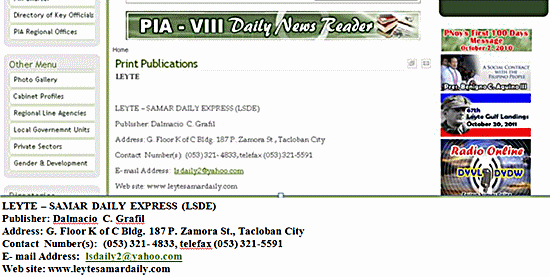 (The PIA is a Philippine government agency with a regional office in Tacloban, the first and only highly urbanized city in the Leyte-Samar-Biliran Waray Region.)
Here's however a website entry, which is not (italicized texts) entirely true, from www.Tradezz.com, the LSDE being tag-linked as corp_644788_Leyte-Samar-Daily.htm:

The LeyteSamarDaily.net
In its own website, leytesamardaily.net, now, since 2011, finds a 3-column layout page with the following sections available only a mouse click after, below the date of posting:
On the left column – News with photo, and reference titles (Categories) to what you may want to read from the archives: 'ANNOUNCEMENT', Editorial, Letter (letters to the editor), features, opinion columns, entertainment, message (such as that of His Holiness Pope Benedict XVI for the 46th World Communication Day, published on May 20, 2012), opinion columns, news (banner [News 1] and second stories), Ulat Sa Bayan, and uncategorized items;
The middle column is the main display board for the referenced items. A click on a chosen item leads to the full text of that item. Often it displays the top-billed photograph, followed by an editorial cartoon, a lead to the "Second Story", and leads to the other articles. Opened after the Home page, the following information is given at the bottom of the full-display item: name of the writer (as tagline, if not mentioned in the beginning of the article as a by-line) or the source, date at which the item is published in the net page, guide as to where the item is found, and a folio on the "previous topic" and "next topic". A feedback section is found at the bottom of the column, in which a net reader can write reactions or mere thoughts related to the item found in the upper section of the column, or to any other item accessed via this net page; and
On the right column – In the Home page, one finds leads to Opinion (often with photos of columnists, followed by a summary lead to News 1 and then leads to More news1 Headlines. The anchor section sometimes gives leads to the Feature stories, and titles of articles that are presently "Trending" (which also indicates how many are reading or have read each trending article), while the bottom liner gives exactly what number are you presently among those visiting the LSD net. Browsed, the net page next ushers your to a poll survey (today the survey is on the question "How often you visitLeyteSamarDaily.net" [then as you browse, the inside survey question faces you: "How did you find LeyteSamaDaily.net"], while for a longer time in the past, it was about rating the water service in Tacloban) which elicits reader's participation, then it gives you the FaceBook "Like" pluggers, the "Live Traffic Feed" (a real-time view with menu) showing who reads what item and from which point of the globe, Latest Topics, and Recent Comments.
Here's a screen shot of the "Trending" on the home page for December 19, 2011, as of 6:14 p.m.: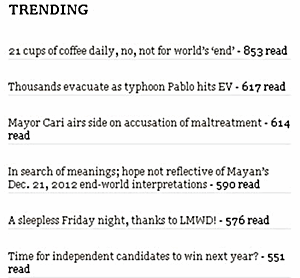 Fair Newspaper
The region's one and only daily newspaper, that the Leyte Samar Daily Express still is, demonstrates its adherence principle of fair reporting, or fair journalism. Publisher Massey Grafil sincerely and deeply views it likewise as an obligation on the part of both the newspaper itself and its writers. Thus, it gives space to all those who feel they are affected by any item it publishes, except in the case of opinion columns, where, as established and sustained by legal jurisprudence and clipped up by editorial newsrooms, the contents and claims therein remain the sole and full responsibility of the opinion column writer. Even then, here, where some parties are affected, columnists get up to that level of being able to provide clarifications especially when their claimed "sources" are challenged".
Examples of how LSDE responds to this obligation, when not available during newsgathering and editing (which actually includes "crosschecking for accuracy" – as I always emphasized in my lectures on news writing since 1975 to various audiences [high school and college students, community information officers, professionals, advisers of school or campus writers, fellow journalists, and government information officers]), are these references to letters to the publisher: denials and/or rectifications to allegations in a news item written by Alvin P. Cardines concerning the performance of nursing schools in the nursing board exams, sent in by ESSII/OIC, chief administrative officer Marcelo M. Uy of the Commission on Higher Education (letter dated March 2, 2011), Naval State University president III doctor of education Edita S. Genson, and Professional Regulation Commission regional director German P. Palabyab (the last two letters published on March 4, 2011). The effort on fairness went so far as to include this down-to-earth statement by Palabyab: ".... May I suggest next time; your prestigious newspaper should send me an experienced reporter, instead of a cub reporter who conducts his interview on the phone only. A more matured and experienced writer might have a different report. Your reporter by the way came to see me and claimed that his original manuscript was changed by your editor." (Alvin called Marcelo on February 28, 2011 and the latter "stated that the CHED Regional Office has no data available regarding the issue .... did not identify any school" and told Alvin that his position was "OIC, Chief Administrative Officer" (not CHED OIC).
Growth and Acceptance
The preponderance of opinion column writers in a newspaper is in a way an indication of a newspaper's growth and acceptance, gauging likewise the potential number of "followers" each columnist has anywhere in the world.
As of today, as could be gleaned from the LSDE net pages, this daily newspaper is endorsed by a total of regular columnists (otherwise, they would not anymore be writing for LSDE and their columns will no longer see print). The 19 names of columns and columnists are as follows (arranged alphabetically by writer's name: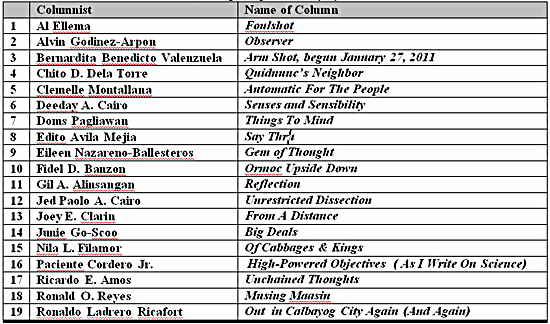 Behind the regular "Commentary" are the opinions of Fr. Roy Cimagala and the veteran national journalist Juan Mercado who writes with depth and historical insights.
There had been other columnists, editors, staff writers, and regular contributors (either as reporters or free lance writers) to both the LSDE and its sister publications, as well as in the harbinger Leyte Samar Weekly Express.
The coming innovations will certainly see more coming in. Region VIII certainly likes that.
Murder is murder, not a 'legitimate encounter'
A Statement from the Asian Human Rights Commission
December 21, 2012
On December 19, the Commission on Human Rights (CHR) was reported to have concluded after over two years of investigation that the killing of botanist Leonard Co and his two assistants in Leyte in November 2010 "was due to the military's failure to distinguish civilians from combatants." The CHR has submitted its report to the Department of Justice (DoJ) but did not make recommendations on as to what criminal charges should be filed against the soldiers involved in the operation and killings. The CHR has left it to the DoJ to "determine what charges will be filed."
The AHRC welcomes the CHR's report though it is of the opinion that it could have been resolved more promptly. The AHRC feels that the publication of the report is long overdue and rejects the CHR's inability to conclude what charges should be filed against the soldiers. Killings on the pretext of 'legitimate encounter' are very common in remote areas when soldiers conduct military operations and the justification of killings as 'legitimate encounters' has been the convenient excuse used by the soldiers and the police to escape criminal liability.
The AHRC strongly believes that the killing of Leonardo Co and his two assistants was not due to the "military's failure to distinguish civilians from combatants," but rather a 'premeditated murder'. This judgement is based on the numerous cases of killings on the pretext of 'legitimate encounter' which were later found to be murders. Unless the CHR categorically concludes and recommends to the DoJ to prosecute the soldiers for murder, the soldiers and the policemen will continue to use 'legitimate encounter' as the justification for their 'widespread and systematic' killing of civilians.
Operations conducted by the Armed Forces of the Philippines (AFP), including the operation that killed Leonardo Co and his aides, in fighting against the communist and the separatist insurgencies are thoroughly planned. The soldiers have deeply embedded intelligence networks in these communities and are fully aware about who and what is going on. In fact, it is very common for the soldiers and the police to keep records of people who live in the villages, those who come and go because most of these villages are under curfew and hamletting, which is the collection of villages under military control.
In view of this to claim that these soldiers would go on military operations proceeding to areas under their complete control not knowing who the people in the communities are is to deny reality. In fact, to know or not whether the victims were civilians is irrelevant in Co's case. Ms. Loretta Rosales, chairperson of the CHR, herself has said: "The truth is, there was no legitimate encounter because it was one-sided, there was no exchange of fire."
Apart from the killing of Co and his aides, local human rights organisations have since documented numerous cases of killings on the pretext of 'legitimate encounter." Of late is the massacre of the Capion family on October 18 this year in Tampakan, South Cotabato. In our 2012 Human Rights report (p. 10) we have concluded that;
"To justify civilian deaths in massacres as 'legitimate encounter' is common practice by soldiers. They are able to escape scrutiny because of practical difficulty for the police to effectively and impartially investigate these cases in their remote sites of occurrence. Before the Ombudsman resolved to indict soldiers for the death of Bacar Japalali and his pregnant wife Carmen in September 2004, the deaths were also justified as a 'legitimate encounter'. The Ombudsman, however, rejected the soldiers' claim, because the bodies of the couple were still inside the mosquito net when found. The soldiers also portrayed the couple as members of a Muslim rebel group in an attempt to discredit them and to escape criminal liability. However, investigation by the prosecutors and the police revealed the couple had nothing to do with armed rebellion.
The AHRC strongly recommends to the CHR and the DoJ to prosecute soldiers and policemen, not only in Co's case, but in many other cases where the killings of civilians have been justified as a 'legitimate encounter' on charges of murder. It is the utmost responsibility of the CHR and the DoJ to make it clear to the authorities and the public that murder is murder, not 'legitimate encounter'. It must be made clear to the military and the police establishments that they will be held accountable for murder in order to end this practice.
Truths behind the RH bill

By Fr. ROY CIMAGALA, roycimagala@gmail.com
December 16, 2012
There's a little, handy booklet entitled, Handbook of truths behind the RH Bill, which I think is good to have for the campaign to clarify this delicate issue that is now swamped with all sorts of confusing arguments.
It focuses more on the medical, economic, demographic and legal aspects of the issue rather than on its morality. And so, it is good for those who want to reach out to those who are a bit allergic to religious arguments but are more open to its more secular, scientific or empirical perspectives.
I, of course, believe that the issue is first of all moral – the reason why the Church is very much involved in it – before it is a medical, economic or legal issue. But since people have different sensitivities and attitudes, it would be good if they too can get hold of some clarificatory materials that satisfies their preferences. This handbook does that.
First of all, I wish to say that our first freedom, the most intimate freedom we have is religious freedom, on which is based our sense of morality, among other things. It is not freedom of speech and assembly, nor even freedom to live, since all these rights and freedom are based on our religious freedom.
I feel urged to make that clarification because when I read the arguments used by some of our congressmen who voted on the issue in the second reading, I now understand why many of them took what I consider as wrong positions regarding the issue.
Their idea of our first and ultimate freedom can be reduced to freedom to be oneself, as expressed in some allegedly absolute freedom to life, expression and assembly, right to liberty, etc.
To me, it sounds like a freedom that does not talk about where it came from and how it used to be exercised. It is presumed to be self-generated or spontaneously created that in the end is like saying that we too in our life, in our very being are self-generated and spontaneously created. That's, of course, a ridiculous presupposition.
In short, they are saying that there is no creator for us. There is no God. This is a form of atheism that may be considered as practical atheism, not so much the theoretical one, since it may not be formally professed but is simply practically and consistently lived.
This, I think, is a point that needs to be ventilated more widely, since this is not yet fully appreciated by many. That's why we have an understanding of democracy, supposedly based on freedom, that is actually weak and vulnerable to be exploited by those who have power in one form or another.
Going back to the handbook, it is a well-written piece by a team of experts in the area of economics, demography, education and law. It takes the issue to its deeper and wider implications, exposing the hidden but clear maneuvers of powerful groups and ideologies averse to supernatural faith and religion in general.
It is written by competent authors who are very much into the intricacies of this issue. They are Dr. Bernardo Villegas, economist; Miss Rosa Linda Valenzona, demographer; Jo Imbong, lawyer; Roberto de Vera, economist; Raul Nidoy, educator; and Robert Cortes, educator.
Among the points taken up and developed, supported by relevant studies and researches, are the following:
-The RH bill is harmful to the Filipinos because it endorses drugs and other family planning supplies and techniques that have serious deleterious effects to their physical health and to the environment.
-Pills and the IUD kill the human embryo.
-Pills cause serious environmental problems.
-The RH bill is harmful to Filipino society because its intent to control population is based on wrong facts and wrong economics, and naive to the negative social effects that will come in its train.
-It implies that a rapidly growing population causes hunger and shortage of resources. It does NOT.
-It neglects the fact that societies that have aggressively pushed for contraception are now suffering from a "demographic winter."
-The RH bill is harmful to Filipino society because it violates the Philippine Constitution and seeks to enshrine into law forced and artificial 'rights' that may even threaten more basic and genuine human rights.
Let's hope that this handbook can contribute to a more meaningful discussion and dialogue with everyone regarding the issue. We need to be open-minded but clear about our views and positions that are supposed to be grounded on well-established principles and assumptions.
Let's hope that this dialogue continues and leads us to its proper end.
Religion has nothing to do with Pacquiao's fall

By ALEX P. VIDAL / PNS
December 12, 2012
If it is true that "God punished" Manny Pacquiao supposedly for converting from Roman Catholic to "born again" Christian, then God is not just; He is cruel and He plays favorites.
Since most of us believe that God is pure love in its most supreme form, He could not have guided Juan Manuel Marquez's lethal right to inflict harm on a faithful follower.
God has laid down from all eternity the law which governs all things, like light from the sun; but He will never change the economy of world boxing for Marquez who is a Roman Catholic.
What happened to Pacquiao also happened to other great marquee names such as Muslim convert Muhammad Ali, Mike Tyson, Lennox Lewis, Roberto Duran, Tomas Hearns, Sugar Ray Leonard, and to the now Rev. George Foreman.
Single Blow
When all these rings titans were felled with one single blow in high profile fights, nobody blamed God or their conversion to any faith for their Waterloo.
Ali (56-5, 37 KOs), formerly Cassius Clay, converted from Christian to Muslim after winning the world heavyweight crown from Sonny Liston on February 25, 1964. As a Muslim, he racked up 10 straight wins before losing by unanimous decision to Joe Frazier for the world heavyweight championship on March 8, 1971 in New York.
In this defeat to Frazier (32-4, 27 KOs), Ali was floored with a single punch and nearly suffered a knockout loss but managed to finish the fight scheduled for 15 rounds. Nobody blamed his shocking loss for his decision to embrace Allah.
Before he became a pastor, Foreman suffered a humiliating 8th round technical knockout defeat to Muslim Ali on October 30, 1974 in Zaire. In this epic war dubbed "Rumble in the Jungle," the Christian God and Allah did not intervene to save their respective "bets."
Muslim
Another Muslim fighter Hasim Rahman (50-8, 41 KOs) made headlines all over the globe when he scored a major upset in the heavyweight division with a one-punch knockout win over previously indestructible Brition Lennox Lewis (41-2, 32 KOs) at the Carnival City, Brakpan, Gauteng, South Africa on April 22, 2001. Again, nobody credited Allah for Rahman's extra-ordinary power that night. Nobody blamed Lewis for missing his "duties and obligations" as Christian Anglican faithful.
The distinction between religion and superstition is fundamental in the fall of Pacquiao.
Voltaire, in his magnificent prayer, once addressed to God in the article "Theist" where he expounded his faith finally and clearly: "The theist is a man firmly persuaded of the existence of a supreme being as good as he is powerful, who has formed all things; who punishes, without cruelty, all crimes, and recompenses with goodness all virtuous actions…Reunited in the principle with the rest of the universe, he does not join any of the sects which all contradict one another. His religion is the most ancient and the most widespread; for the simple worship of a God preceded all the systems of the world."
Strong rights, no remedy
A Statement by the Asian Human Rights Commission on the occasion of the Human Rights Day 2012
December 11, 2012
The Asian Human Rights Commission (AHRC) has released its 15-page report on the situation of human rights in the Philippines this year. The report, titled "Strong rights, no remedy," gave detailed analysis on the absence, if not lack of adequate remedy and redress to any forms of violation of rights in the country's system of justice. The report is written in seven sections and each section gives analyses of the important events which took place this year, and by examining old cases and new cases it has documented, it evaluates what impact it has had on protection of rights.
The discourse on protection of rights, or the lack of it, in the Philippines has been very challenging in recent past. There is a strong perception -- domestically and internationally -- of the governments political will to protect rights. But whether their public statements and policy of protection of rights are translated into reality to the daily lives of the people who suffer have been questionable. There are rights, like freedom from torture, with no legal remedy in the past, now they have; perpetrators of gross human rights violations, like former president Gloria Arroyo and the military generals during her term, who could not be prosecuted in the past, are now being prosecuted.
The government has been engaged in legislating and ratifying domestic and international human rights treaties respectively, but in practice none of those accused of torture have been punished. Events and developments like this have resulted to renewed confidence on the government. By examining empirical cases, it is clear that there is a fundamental breakdown in the country's system of protection as described below.
Convicted chief justice & the court judges
This section examines the impact of the conviction of Renato Corona, former chief justice of the Supreme Court (SC) in an impeachment trial for his non-disclosure of his assets, on the discourse of judicial accountability and corruption amongst the judges in the lower courts all over the country. Corona's conviction has restored the confidence of the public on the executive and legislative for exercising their role as co-equal branches in safeguarding corrupt practices and abuses.
But Corona could be impeached and punished; however, in practice judges in lower courts subordinate to him breached due process rules and fundamental principles of fair trial as they exercise of their duty daily. Judges ignoring orders by the SC, admitting evidence taken by way of forced confession and torture, conniving with prosecutors in fabricating charges against human rights and political activists, delaying trial of cases, and others subverting due process is very common. They were never punished.
Old and new cases: no arrest, remedy
This section explains why the Inter-Agency Committee on Extra-Legal Killings, Enforced Disappearances, Torture and Other Grave Violations of the Right to Life, Liberty, and Security of Persons, which President Benigno Aquino III, is doomed to fail. This body, with a fresh mandate to investigate old and new cases, only repeats the ritual of creating task forces and special investigation bodies.
The inability and failure of similar special task forces before, notably the Task Force 211 in November 2007, to ensure that its prosecution based on the special investigation they earlier had conducted would result to conviction, identification of the accused and conclusion of cases, questions the competence and credibility to this new 'super body'. Also, the inability of the authorities to arrest former General Jovito Palparan and his accomplices for the enforced disappearance of activists despite the increases reward money for his arrest clearly illustrates that even if court issues arrest orders, perpetrators would not arrested.
If Palparan and other powerful and influential politicians, who had been identified as masterminding targeted attacks of human rights and political activists in high profile case could not be arrested despite being known in the country, it means the possibility of prosecuting perpetrators of extrajudicial killings and disappearances where the perpetrators are not identified--like the death squad in Davao City – is non-existent. Thus, the recommendation of the Commission on Human Rights (CHR) to hold local officials accountable in Davao City would be meaningless.
Cycle of rights violations: massacre, killings, torture & disappearance
As expected, massacres and other forms of horrible violations happened this year, too. But these cases are no different to earlier documented cases that remain unresolved. If the perpetrators in the Maguindanao massacre in November 2009, after three years of trial, are still unpunished and other perpetrators remain at large, it would not be surprising that the massacre that documented this year, notably that of Capion family in October 18 in Tampakan, South Cotabato, would not be resolved, too.
One of the complainants in the case of the Maguindanao massacre, Myrna Reblando, widow of journalist Alejandro 'Bong' Reblando, had to leave the country for lack of adequate protection. Not only her that is being targeted, there have been potential witnesses who had been killed before they could testify, families of the victims offered bribe, if not being continuously being the object of threats and harassment with the deliberate intent for them to withdraw their complaint. They have no protection.
No remedy, redress: they be Filipinos or not
In the past, there are probabilities of prompt and effective intervention when foreign governments and their people take action from abroad on human rights issues. In this section it explains that even in cases of foreign nationals, Wilhelm Geertman and Fr. Fausto "Pops" Tentorio who were murdered on July 3, 2012 and October 17, 2011 in the country respectively, perpetrators are either unpunished or unidentified.
Wilhelm and Fr. Fausto had lived and worked for decades with the poor and vulnerable communities. If cases of these persons, who has representation from their foreign governments and pressures from their own people back home had not resulted to adequate remedy, will cases of Filipinos in their own country have? This section demonstrates numerous cases without remedies regardless of the identity and personal background of the victims. No remedy be they Filipino or not.
Prospects in the emerging justice system: Bangsamoro political entity
The signing of agreement between the Moro Islamic Liberation Front (MILF) and the Government on "Framework Agreement on the Bangsamoro" offers prospects of peace and building of democratic institutions that would address the aspirations of the struggle of the Muslims in the south. The real challenge is how to build institutions of justice that would address the grievance of the Muslims who are often the usual suspects in terrorist activities after decades of subjugation.
This section draws the old experience on how cases of torture, arbitrary detention and fabrication of charges, had been committed with the operation of justice system – the police, prosecutors and judiciary. These lessons should be learned. Thus, it is important that fair trial and due process is to be fundamental values in this emerging justice institution in the proposed political entity if this agreement for political settlement on the Mindanao question is to survive.
Rights in the Philippines: on paper, not in practice
This section explains that by its legislation of domestic law and ratifying international human rights treaties, the government succeeded in making it appear on paper that not only it has 'political will' it is also a 'champion of human rights.' The perception it has created and 'diplomatic victory' is has obtained in doing so, has changed the landscaped of human rights discourse into becoming even more difficult. The government's records is being reviewed, not how in reality it afforded or not afforded remedy to violations of rights, but how many domestic laws, human rights treaties it has signed; and public statements of its government officials reaffirming protection of rights.
In conclusion, it is clear that without changes as to how the institutions of justice – police, prosecution and the judiciary – operate to ensure adequate protection of rights, there is no possibility that rights on paper would have remedy. If the very fabric of the system of protection of rights is flawed, no rights would have the possibility of obtaining any remedies.
This report is available at http://www.humanrights.asia/resources/hrreport/2012/ahrc-spr-009-2012.pdf/view