Tender Mercies
By ROBERT Z. CORTES
June 12, 2017
Three Saturdays ago, I and two of my friends met a lady who can easily qualify as the coolest and funniest octogenarian of our lives - even if she could hardly walk. (She's not in the picture though :) )
She lived in a house also occupied by her older brother and his wife who, she later told us, both hardly minded her. She had one little corner in that house but it was practically a separate unit since it had its own private entrance from one side of the house.
Our random meeting happened through the recommendation of a barangay counsellor-friend who knew her semi-abandoned plight. That first meeting was unforgettable. There was a kind middle-aged lady who led us to Lola, and what followed was easily an hour of laughter and deep insight when we thought it was just going to be 10 minutes of expressing our piety and pity.
The upshot of that first meeting was that we resolved we were going to visit Lola more regularly - bringing our other friends. Pope Francis, after all, has been very clear about not abandoning our elderly – they're one of those in the peripheries of the Church. And here was one who would not only give us an opportunity to obey the Pope; she was even one who could make our and our friends' Saturday mornings much more meaningful. Most importantly she pleaded with us to please come again.
Last Saturday, we made that next visit. It was raining but it didn't matter. When we arrived at Lola's side of the house we saw that the main door was open, but the screen door was locked. We then called out to Lola. However, instead of her, someone else heard us who came out from another door. Seeing the apparition was like an encounter with Medusa: we froze.
And it was not because she had snakes on her head (in fact, she only had a fake flower stuck on top of her left ear). It was rather because she was someone we knew as the "pious lady" of the parish church nearby: always hopping around busily fixing things on the altar, approaching people nicely, making sure shawls were placed on "errant" girls who insisted on wearing sleeveless tops, etc. But she was now anything but that. She had been transformed to the imperious lady boss of the compound.
Looking at us like we were masked men about to take Lola hostage, she asked us what we were doing there. When we told her we were going to talk to Lola she asked what for. And before we could answer, she asked what we were going to do after we talked to her. And while we were formulating the answer to that last question – wondering if we were still going to answer the previous – she asked how long we were going to talk to Lola. This time one of us was quick enough to say "around 30 minutes," and she replied, "one hour?" I then realized she really was paying attention. And very interested in our answers.
Seemingly satisfied that she had made quite an impression on us, she then pounded on Lola's door with all the vigor that her imperiousness could muster, as if she were demanding the Maute rebels to come out or else. She muttered impatiently under her breath why on earth Lola locked her door. (I thought I saw some flames coming out of her nostrils, but most probably I was just seeing things.) Very condescendingly, as if taking pity on the suffering we were about to be subjected in the visit, she advised us to be patient with Lola since Lola was "baliw." She then walked away.
I was interiorly shaken when I entered Lola's unit. I had begun to understand that Lola was around someone who didn't regard her the same way we did and wondered what other sort of abuses she received from this woman the rest of the time. Thankfully, Lola was her old self the last time we met her. We again laughed and learned from each other. We soon found out that she was the ignoble sister-in-law (ISIL) and Lola gestured that the lady was "baliw" by waving her two hands in circles near her head. The feeling was clearly mutual. That fact was a source of a good laugh for all of us and we continued our gossip in whispers. It was good, albeit innocently mean conspiratorial fun.
Pretty soon the meeting had to end earlier than we had wanted. After all, we were painfully aware that someone was timing our stay. When we went out of the door, planning to pay our respects to the ISIL before we left, we realized she was nowhere to be found. We then headed to the gate fearing she didn't want to be disturbed anymore. And just when we were opening the gate, she made her second apparition – and she was definitely no Lady of Fatima.
Nope, after all, she caught us "red-handed" leaving without even the decency to say goodbye to her. Didn't she see us opening the gate, and we never even bothered to look for her? There's a door, you should've knocked! Is this how you do things - you are welcomed like decent guests and you sneak out like thieves? Don't do that to me or anyone else ever again you understand? Sige, umalis na kayo!"
That was the end of the rope for me. As we were out of earshot I said, "What a disgusting creature."
One of my friends asked me, "Why do you say that?"
I said, "Don't you realize that the Gospel this morning was about the hypocrisy of the Pharisees who paraded their piety outside but were full of wickedness inside? Didn't she hear the priest's homily this morning? She was right there in front, piously folding her hands."
My friend meekly answered, "Well, maybe she needs a visit herself."
Well... yes.
His reply gave me pause, and I immediately knew where it was going. She's one of those in the peripheries, too.
I also quickly realized that he was right, but I just wasn't willing to fully admit it. Not yet. Darn it – how can someone so mean be in the same peripheries as such nice people as Lola? In fact, I wanted to resist the idea so much I managed to quip, "Well, I can ask a psychiatrist to visit her."
But a few more steps, I had to accept a fact that was as clear as day: I was now like her. By putting her in the category of the disgusting, I was now in that same category. What a sad thing: many times we don't realize that we who think ourselves very much within the Church are in reality in its peripheries.
But with acceptance comes hope. Thankfully, the source of hope is clear. "Blessed are the merciful for they shall obtain mercy." It's the very same idea that brought me to the coolest and funniest octogenarian I've ever met. Only now I understand better how much more deeply I still need to understand that word "mercy."
The goal of education

By Fr. ROY CIMAGALA, roycimagala@gmail.com
May 31, 2017
THIS is none other than for us to be another Christ. After all, he is the very pattern of our humanity in the beginning and the redeemer of our damaged humanity. If education is for us to achieve the fullness of our humanity, we should not look at anything, no matter how lofty and useful, other than at Christ.
St. Paul, in his Letter to the Ephesians, describes it this way: "His (Christ's) gifts were that some should be apostles, some prophets, some evangelists, some pastors and teachers, to equip the saints for the work of ministry, for building up the body of Christ, until we all attain to the unity of the faith and of the knowledge of God, to mature manhood, to the measure of the stature of the fullness of Christ..." (4,11-13)
Yes, education is not simply about acquiring some worldly knowledge and skills. It's about achieving this "mature manhood" St. Paul was talking about, a mature manhood that is "to the measure of the stature of the fullness of Christ."
Obviously, knowledge and skills are important and are, in fact, indispensable. But they have to be oriented toward the ultimate goal of education which is the pursuit for the fullness of Christ in us.
We have to be wary of the strong, almost irresistible temptation to downgrade the purpose of education to simply achieving some worldly values like wealth, honor, popularity, efficiency, etc.
These worldly goals, if not related to the ultimate goal, can very well be sweet poisons that can corrupt the process of education.
Some sectors may claim that putting Christ as the main goal of education undermines the technical rigor that should accompany the task of learning the sciences and the arts. They claim that that approach would be too other-worldly as to restrain us to go to the last consequences of our studies.
We should not be deceived by such claim, because the opposite is, in fact, the case. When we put Christ on top of everything else in our education, we would be most motivated and pressured to be thoroughly exacting in our studies. Christ himself would require nothing less than that.
Thus, the ultimate goal of education is when we learn to deal in an abiding way with the Holy Spirit, who is the spirit of God, who will remind us of everything Christ taught us, who will lead us to the complete truth and would tell us of things to come.
At this time of the world's life, we should do much better than the early Christians who, when asked by St. Paul whether they have received the Holy Spirit, answered that "we have not even heard that there is a Holy Spirit." (Acts 19,2)
All the technical things involved in our education should somehow tend to the learning of how to deal with the Holy Spirit. For this, it might be useful also to know the gifts of the Holy Spirit which enable us to know things the way the Holy Spirit knows them.
We should never marginalize, much less, ignore, the Holy Spirit in our education.
Statement on the Marawi Crisis
By Philippine Center for Islam and Democracy
May 25, 2017
The Philippine Center for Islam and Democracy strongly condemns the violent attacks perpetrated by lawless elements in the Islamic city of Marawi and Lanao del Sur, made more heinous as it occurred as the Muslim faithful are preparing for the holy month of Ramadhan. Any act inciting to terror in the hearts of defenseless civilians, the destruction of places of worship and properties, the murder of innocent men, women, and children irrespective of one's faith are all forbidden and detestable acts according to Islam. Sowing terror through force and violence has always been an invalid means of attaining societal changes, and cannot be justified through faith or religion. The Qur'an says: "If any one slays a person- unless it be as punishment for murder or for spreading mischief in the land - it would be as if he slew all people. And if any one saves a life, it would be as if he saved the lives of all people." (Surah 5, verse 32).
We urge the Philippine Government to ensure that the declaration of Martial Law will not, in any way, compromise the lives of our people and the principles of democracy that we hold dear. PCID believes that the peaceful resolution of the armed conflict Marawi is needed, through tempered and calibrated responses that will prevent further casualties and damage to property and livelihoods.
We ask fellow Filipinos to stay informed based on facts, especially with the prevalence of unverified information and unsupported theories regarding the crisis. We also ask the media to take extra precautions in their reporting, and to prevent framing the crisis as a binary conflict between Muslims and Christians. We should focus on uniting and working together for just peace and human rights, instead of holding unfair and preemptory judgments that can only lead to a perilous cycle of fear, ignorance, and worse, more violence.
More than ever, preventing violent extremism is needed, so we are urging all sectors to immediately address the worsening issue at its roots. First and foremost, our government officials, particularly the elected leaders, should be accountable for good governance and rule of law as well as the deterioration of the peace and order condition in conflict affected communities of the Autonomous Region of Muslim Mindanao. Without good governance and the rule of law, government cannot be effective in improving the socio-economic and political conditions of our people, and the delivery of basic services long denied in the Bangsamoro.
As the Muslim ummah enters Ramadhan, we can only pray for wisdom, peace, and understanding.
Workers' group rejects military rule in Mindanao
A press statement by Bukluran ng Manggagawang Pilipino (BMP)
May 24, 2017
The Bukluran ng Manggagawang Pilipino (BMP), a socialist national labor center, added its voice today to all those who oppose President Rodrigo Duterte's imposition of martial law in the whole of Mindanao. Our position in based on the following grounds:
1. Mindanao is not in a state of lawless violence, nor is it facing invasion or rebellion, which are the only cases where Martial Law could be legally imposed.
The Marawi attack does not justify the imposition of military rule in a region that is now pursuing peace through revived negotiations between the Philippine government and the various armed groups of the Moro self-determination movement.
2. Unlike in the 1973 and 1935 constitutions, where imminent danger or mere threat to public safety is enough to justify military rule and the suspension of the writ of habeas corpus, the 1987 Constitution requires that there has to be an actual uprising or insurrection in the entire Mindanao region before a justified declaration of Martial Law.
In forty eight (48) hours, Duterte is required, by law, to reveal to Congress the factual and legal basis of his imposition of Martial Law.
We demand that Malacańang to also present its case on why military rule is its solution to the terror attacks, as it is contradictory to statements by the Armed Forces of the Philippines (AFP), which declared that the situation in Marawi is now "under control", and to declarations by Rodrigo Duterte himself, who has said that a purely military solution will not address the historical roots of the Mindanao conflict.
3. The legal minds of Malacańang – especially President Duterte – may argue that safeguards to civil liberties and political rights are in place even with the imposition of Martial Law. But formal recognition is different from actual realities. The Bill of Rights is often illusory in a warlord-ridden region such as Mindanao, even during peace-time but certainly more so during martial rule.
Since the imposition of martial law in Mindanao has no factual and legal basis and because Malacańang rushed into martial rule, without exhausting all other options, we fear that the fascist tendency of the Duterte regime is nearing its full bloom, through the re-imposition of open dictatorship in the entire country, which Digong has repeatedly threatened to do during the campaign and throughout his first year in office.
The BMP demands that the Duterte administration immediately (a) end the martial law in Mindanao; (b) uphold civilian supremacy over the military; (c) protect people's rights – especially the rights to freedom of association and legitimate dissent; and, (d) address the longstanding conflicts in Mindanao by satisfying the Filipino people's demand for peace and equality and the Bangsamoro people's right for self-determination.
Priests should only talk about God!

By Fr. ROY CIMAGALA, roycimagala@gmail.com
May 14, 2017
THAT'S right. And especially, when it involves bishops. When they, we – me included, stray into commenting about politics, even if we have the good intention of evangelizing it but cannot avoid taking a partisan position, we would be doing wrong and be causing great harm to everyone.
Christ himself, living at a time and place where the political conditions were far from ideal, refrained from making any comments about politics. About the only time he could be said to have made a political comment was when he referred to Herod as a fox. (cfr Lk 13,32) Other than that he was silent and resisted any attempt to drag him to the political scene.
In fact, he submitted himself to the prevailing laws at the time, highly imperfect as they were, even if as the Son of God and our Redeemer, he could have been exempted from them. This was the case of whether he had to pay the temple tax or not. (cfr, Mt 17,24-27)
Current Church laws and praxis have always discouraged the clergy from getting mixed up in political issues. Part of the reason is the autonomy that temporal matters like politics enjoys and has to be respected no matter how much we may disagree with certain political views.
But the other part of the reason is the obvious danger of alienating some people. Priests, consecrated to be the sacramental personification of Christ as head of the Church, should always be an agent of unity and redemption, concerned mainly with the spiritual and supernatural life of the people.
Even if we have the better political view, we do not have the privilege to participate actively in the political discussions. Even when the issues involved already have direct repercussions on faith and morals, we should refrain from making comments that can be interpreted as politically partisan.
The reason behind is that even in the worst scenario, there is always some good that can be derived from it. If we follow by our faith, if we follow by the example of Christ, we just have to go along with whatever political temper there may be at a given time and place and focus more on what we are supposed to do.
Of course, we as pastors can make moral judgments on political issues that clearly violate faith and morals, but these should be done with utmost delicacy and charity.
In this regard, we should not be afraid to be misunderstood and to suffer all kinds of persecution, reflecting Christ's character as a sign of contradiction. What we cannot do is to fall into a kind of bitter zeal that would leave charity behind in pursuit of what we consider to be the truth and the requirements of justice.
Actually, talking only about God already entails a lot of things and can demand everything from the clergy. It covers everything that is of real and eternal importance to us. Preaching the mysteries of our faith alone is no small matter. This is not to mention that we have to journey pastorally with the people, both in their collective and individual/personal aspects.
All these require nothing less than full identification with Christ in whose priesthood we participate. The social-action aspect of the clergy's work should never be interpreted as a ticket to get involved in partisan politics.
National ID system, amid militarization of gov't bureaucracy, will lead to wholesale rights violations
A Press Statement by the KARAPATAN Alliance for the Advancement of People's Rights
May 12, 2017
Amid the growing number of military generals holding top posts in the government bureaucracy, the proposed bill on the national ID system, which was recently approved by the House Committee on Population, is bound to lead to wholesale violation of people's rights to freedom of movement and privacy, right against surveillance, and right to unhampered and non-discriminatory provision of social services.
Such proposed measures will legitimize the already existing violations of the rights of the people. Many activists and political dissenters were subjected to surveillance by the state. Worse, their names were listed in the so-called "order of battle" by the Armed Forces of the Philippine (AFP) and other similar lists as part of the counter-insurgency program of the government. With the continuing spate of illegal arrests and detention of activists, we believe that this policy and practice continues to this day.
The proposed National ID system will aggravate the already bleak human rights situation in the country where human rights defenders and political dissenters are subjects of surveillance, threats, illegal arrests and detention, enforced disappearances and extrajudicial killings. Its conspicuous timing is also in the context of increased militarization of the civilian bureaucracy, the continuing implementation of counter-insurgency programs, and killings in line with the war on drugs.
We take exception that such draconian measures are being pursued in the guise of purportedly addresses problems in the bureaucracy on the delivery of social services. The inefficiency in government transactions is deeply rooted in a corrupt system. A more productive response to the need for an efficient system of delivering government service to the people is through the prioritization and allocation of necessary funds for the social services, instead of giving a lion's share of public funds to the unproductive concerns of the defense sector. A more comprehensive response to criminal activities should start with the investigation and prosecution of criminal elements mostly in the Philippine National Police itself and the political biggies who protect these syndicates.
Statement of Senator Alan Peter Cayetano on vote to Gina Lopez
By Office of Senator Alan Peter S. Cayetano
May 5, 2017
Good evening everyone! Greetings from Geneva.
I will always decide on what is right and not what is popular.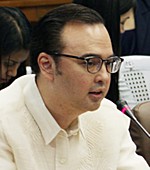 I'm not surprised to see so much support and so much opposition to the voting of the C.A. re DENR Secretary Nominee Gina Lopez. I thank those who are open minded and asking why? I'm not surprised that Sec. Gina and her group will go so low as to cast aspersions on why I voted the way I did and even accuse me of being in the pockets of the mining industry.
Since the 2007 campaign my stand on responsible mining and the strictest, highest standards for industries that affect the environment has been consistent.
At the time of the voting, I felt that for me to explain my vote at that time would be like rubbing salt in a wound, because I would have to enumerate all the reasons why she is not fit to be DENR secretary. I felt it would be cruel to reject then put her down.
Yet she now singles me out when a vast majority of the CA voted to reject (after giving her a year to prove herself) her appointment.
I want to clarify that I gave Ms. Lopez enough chances to dispel fears that she would not observe the legal process in regulating the mining industry. I supported her in closing down mining sites that were not compliant with the highest standards. Moreover, illegal mining and logging continue to proliferate, while other sectors that need both strict regulation continue to destroy the environment.
Unfortunately, the Secretary was adamant in defending her illegal actions. If she had carried on with her mindset, it would have embarrassed the Duterte Administration sooner or later. She would have placed the administration in a predicament that would be hard to defend.
I respect Ms. Lopez's passion as an advocate for the environment, but she fails to understand that she cannot arrogate unto herself Constitutional powers reserved exclusively for Congress.
Many officials have invoked good intentions when they violated our anti-graft and corruption laws, and President Rodrigo Duterte was left with no choice but to terminate them. Ms. Lopez's recent acts already bordered along these lines. Going by her unwillingness to comply with institutional processes, she is not fit to head the DENR. She would have embarrassed the President in no time.
We are all for alleviating poverty and the strict enforcement of our laws, but we cannot and should not do so by being whimsical in imposing regulations that violate Constitutional processes.
I hope that the President will appoint another Ms. Lopez with the same zeal, yet still mindful of the requisite that one must be faithful to the mandate and dictates of our laws and processes.